1990 Mazda Miata NA – Baby Monster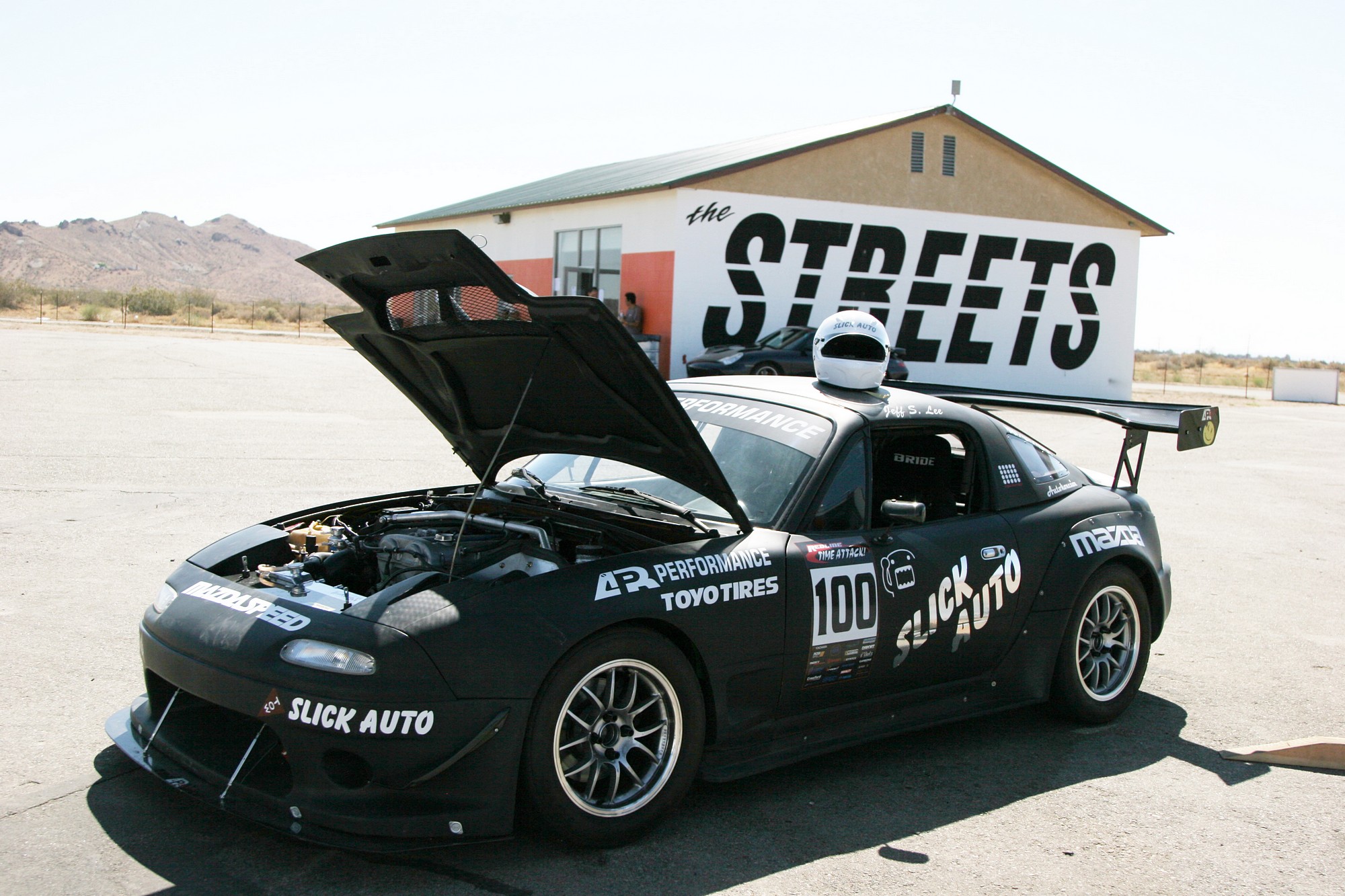 Aerodynamics / Body:
APR Performance pre-preg. carbon fiber / Nomex honeycomb front wind splitter
APR Performance pre-preg. carbon fiber front bumper canards
APR Performance GTC-300 pre-preg. carbon fiber adjustable wing
APR Performance pre-preg. fiberglass ("FRP") rear diffuser (S2000 application)
APR Performance Formula GT3 carbon fiber side mirrors
Slick Auto mirror conversion kit
Slick Auto pre-preg. fiberglass ("FRP") Euro-style rear finish panel
Autokonexion fastback (version 1)
Autokonexion 7 pc. widebody kit (front bumper, front fender replacements, side skirts, rear fender extensions)
Autokonexion heat extraction hood
Custom "flat-bottom" underbody panels
Custom underbody vertical skirts
Custom pre-preg. vertical air guides for fastback
Engine / Drivetrain:
ARP head studs / main bolts
HKS 2mm metal head gasket
Mazda OEM 1.6L B6P I4 engine, cylinder walls were bored +1mm
Mazda OEM forged long-nosed crankshaft, polished, balanced, WPC treated
Mazda OEM main caps
Mazda OEM PCV valve for turbo applications (i.e. 323GTX)
Mazdaspeed motor mounts
R&R E4340AQ billet steel I-beam connecting rods
RC 550cc/min. injectors
Setrab oil cooler
Valvoline 10W-40 dino oil
Wiseco 8.5:1 compression ratio +1mm overbore forged pistons
PRC crossflow radiator (custom Slick Auto spec)
Custom oil pan baffle (in Mazda OEM oil pan)
ACT ProLite 9lb. flywheel
SPEC Stage 2+ clutch
Mazda OEM 1.8 driveshaft/stubshafts
Mazda OEM 1.8 differential carrier/housing
Mazda OEM 1.8 ring/pinion gears, 4.3:1 ratio
Kaaz 1.5way clutch-type LSD
Intake / Exhaust:
Professional Products 70mm throttle body
Ford TPS
Ford TPS harness
Bell Engineering intake manifold (drilled for 70mm throttle body)
Borg Warner EFR6258 turbocharger
ARTech ram horn exhaust manifold (mild steel)
ARTech downpipe (304 stainless steel)
Custom 3″ exhaust pipes (after downpipe)
V-Band clamps for all exhaust connections
Engine Management / Electronics:
AEM EMS V1 stand-alone ECU
AEM 3.5bar MAP sensor
AEM AIT sensor
AEM EGT sensor
AEM UEGO wideband gauge-type controller w/ Bosch 6-wire O2 sensor
Bosh/BMW variable TPS
Flyin' Miata / Westberg boost gauge
Greddy Profec B Spec II electronic boost controller
Interior:
Bride Vios III Low Max FRP racing bucket driver seat
Mazda OEM passenger seat
Sparco Champion Limited Edition 330mm leather steering wheel
Team Voodoo aluminum powder-coated textured pistol grip shift knob
Willans 6pt. camlock safety harness (driver-side only)
Lighting:
Cibie E-code 7″ headlamps + Osram Hyper H4 bulbs
Suspension / Chassis:
Applied Racing Technology re-built de-powered power steering rack
Boss Frog Frog Arms front chassis braces
Brainstorm Performance front subframe brace
Ohlins / DDMWorks PCV single adjustable coil-overs, 450/337 lbs./in. front/rear Eibach race springs
Flyin' Miata 7/8″ front, 5/8″ rear sway bars w/ urethane bushings
Flyin' Miata frame rail re-inforcement braces
Mazda OEM outer tie rod ends for R-Package Miatas (reduces bump steer)
Miatacage.com weld-in roll cage
Racing Beat rear subframe brace
Secret Element Superangle tie rods / inner tie rod ends
Super Pro urethane control arm bushings
Wheels / Brakes / Tires:
949racing 6UL Gen.2 15×9 +36 wheels + Hoosier A6 275/35R15 tires
949racing 6UL Gen.1 15×8 +36 wheels + Toyo RA1 225/50R15 tires
Carbotech XP12 front/rear brake pads
Goodridge stainless steel braided brake lines
Mazda OEM brake caliper brackets front/rear for 1.8L Miatas
Mazda OEM re-manufactured calipers
M-Tuned big rotor kit, 11″ front rotors (from VW Corrado)
Motul RBF600 brake fluid
NAPA OEM replacement rear rotors
---
Installation and Service performed by:
APR Performance (Walnut, CA) http://aprperformance.com/ – body & paint, aerodynamics, misc. race prep.
Autokonexion (Rialto, CA) http://autokonexion.com/ – fastback installation.
EDO Performance (Garden Grove, CA) – ECU tuning, intake and exhaust fabrication.
Drew Staveley (Walnut, CA) – roll cage.
Slick Auto http://slickauto.net/ – electronics, misc. race prep.
West End Alignment (Gardena, CA) http://local.yahoo.com/info-20484636-west-end-alignment-gardena/ – alignment & corner-balancing.
---
Setup:
Alignment (w/ driver & 1/2 tank fuel)
Front
Rear
Camber
-3.25 deg.
-2.75 deg.

Caster
+4.5 deg.
n/a
Toe
0"
0"
Weights (w/ driver & 1/2 tank fuel)
Corner-weights
Front-left
654 lbs.
Front-right
613 lbs.
Rear-left
580 lbs.
Rear-right
539 lbs.
Cross-weights
Front-left to Rear-right
1193 lbs.
50%
Front-right to Rear-left
1193 lbs.
50%
Driver-weight
150 lbs.
Total-weight
2385 lbs.
(this puts the car at 2235 lbs. without the driver)
Weight-distributions
Front/Rear
53.1% / 46.9%
Left/Right
51.7% / 48.3%
Ride-heights (w/ driver & 1/2 tank fuel)
Ride-heights
Front
Dunno, but the Ohlins are maxxed out on their lowest setting.
Rear
A little higher than the front, for some positive rake and improved aero.
Springs
Spring-rates

Front
450 lbs./in.(8 kg/mm)
Linear
Rear
337.5 lbs./in. (6 kg/mm)
Linear
Swaybars
Size / Type / Setting
Front
7/8" (22.225mm)
4140 CrMo spring steel, solid, adjustable
1 (1=softest, 2=stiffest)
Rear
5/8" (15.875mm)
4140 CrMo spring steel, solid, adjustable
2 (1=softest, 3=stiffest)
---
---